Happy Halloween!
Tripawds is a user-supported community. Thank you for your support!
From our family to yours… Happy Halloween!!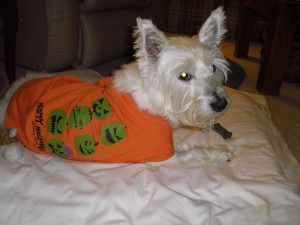 Sometimes we dress Maggie up for Halloween, but this year we thought a decorative T-Shirt was the perfect fit. I found this one on sale at Old Navy for $2.50! I couldn't wait to get it on her. Even though it is not officially Halloween, tonight was our trick-or-treat night and I wanted everyone to see her in her new outfit. We don't get many trick-or-treaters so Maggie greeted almost all of them, until the end when she was tired and I snapped this picture of her on her doggie bed. No chocolate for Maggie, but she got a fun bone!
Today was the last full day of medicine so we will see how tomorrow goes! Her nose is still on and off warm with a fever, which concerns me. I am going to bring it to the vets attention on Wednesday. Other than that, everything seems to be going normally.
I keep reminding myself, and my family, that Maggie doesn't know she has cancer! This totally changed my outlook, thank you Tripaws friends. How depressing is it to know you have something like that and how lucky is Maggie that she doesn't have to wake up to that fact everyday!! We are definitely spoiling her and giving her all the attention we can. I really think she is loving life, and that is what is important!
Love,
Maggie's Family
P.S. Today Maggie rode in the car with Daddy to the bank, her favorite thing! She even got a bone from the nice teller. =)